Our Appointment System
Practice Appointments

Please note: All Stockport General Practices are taking part in a training event on Wednesday 22nd November 2023. If you require urgent medical attention or have an urgent medical query that can't wait until tomorrow, please call the main surgery telephone number and you will be diverted to Mastercall (the Stockport out of hours medical provider) who will assist with all urgent enquiries.

We will reopen our telephone lines and online contact form at 8am on Thursday 23rd November 2023.

 

The quickest way to contact the practice for all appointment requests is by completing an online form. To access this please click here.

This link will be operational between 8am and 3.30pm each weekday for appointment requests. After 3.30pm please contact the practice by telephone on 0161 983 5300. 

You can also submit an appointment request, view your test results and order your repeat medication via the NHS App.

The GPs will review the information submitted via the online form and will indicate to the reception team whether to offer a GP appointment that day, within a week, or beyond 1 week for routine queries. Reception will call patients to book requested nurse and HCA appointments.

We hope that by better utilising technology, we will reduce telephone queue times and the frustration of having to call at 8am for an appointment. 

We recognise not all patients have smartphones or internet access and the telephone lines and reception desks remain open for those who need to speak to someone to book an appointment. These requests will be managed by the reception team in the same way as if the form was completed online and will be sent to the GP to review along with the online forms.

Patient appointments are available at both Smithy Green & Bridge House. We will advise the nature of the booking (telephone appointment or face-to-face) and the location of your appointment at the time of booking.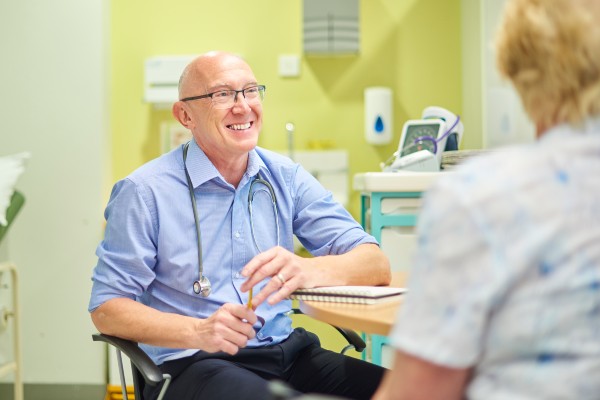 You are entitled to request to see a specific GP but please bear in mind that clinical demands as well as restrictions on GP availability due to annual leave, for example, may mean that we are not always able to offer an appointment with a particular doctor.
If you require an emergency appointment to be seen that day, you will generally be seen by the duty doctor or advanced nurse practitioner (who is able to prescribe). We will not generally be able to book emergency appointments with a particular doctor for these appointments.
Training Practice
We are an accredited training practice which means that we have trainees at different stages of their medical career with us on regular placements.
This can include medical students, foundation year doctors (first 2 years of post-qualification) and GP registrars (doctors undertaking higher training to become general practitioners, generally in their final year of training before qualifying as a GP).
You may see one of our trainees who all work under the direct supervision of the doctors here.
Why do receptionists ask patients why they are seeking an appointment?
The GP Partners ask reception staff to always try to obtain information about the reason(s) for needing an appointment so the GP can ascertain which clinician an appointment should be booked with and also establish the urgency of the appointment.
In addition to the GPs working at the surgery and the trainees detailed above, we also have:
A diabetic specialist nurse and advanced nurse practitioners who are all able to diagnose, devise treatment plans and prescribe
A clinical pharmacy team carrying out medication reviews and reconciling medication changes on hospital discharge summaries. Some members of this team are also independent prescribers
A physiotherapist who can manage many musculoskeletal concerns and refer directly for diagnostic investigations if required
A community midwife
The clinical practitioners listed above are all in addition to our team of practice nurses and healthcare assistants.
As part of the Bramhall and Cheadle Hulme Primary Care Network, we also have access to care coordinators providing specific support for people living with frailty, cancer, learning disabilities, long-term conditions and a wellbeing team who take referrals for patients where social issues such as housing, benefits or caring responsibilities might be impacting their health. There are other community services our reception team can direct patients to for minor ailments including community pharmacists and the minor eye conditions service.
Although our reception team are not medically qualified, they have received a great deal of training both via formal courses and regular in-house updates to ensure appointments are booked with the correct person in an appropriate timescale. All Stockport practices have been supported with care navigation training for their reception teams as the range of clinicians working in primary care has expanded and this is a national NHS initiative.
All medical receptionists and administrators are bound by the same medical confidentiality as clinicians. This is something the practice takes very seriously and our staff undertake formal training and regular in-house updates. The questions asked are required to direct an appointment request to the most appropriate clinician or service.
Further Information